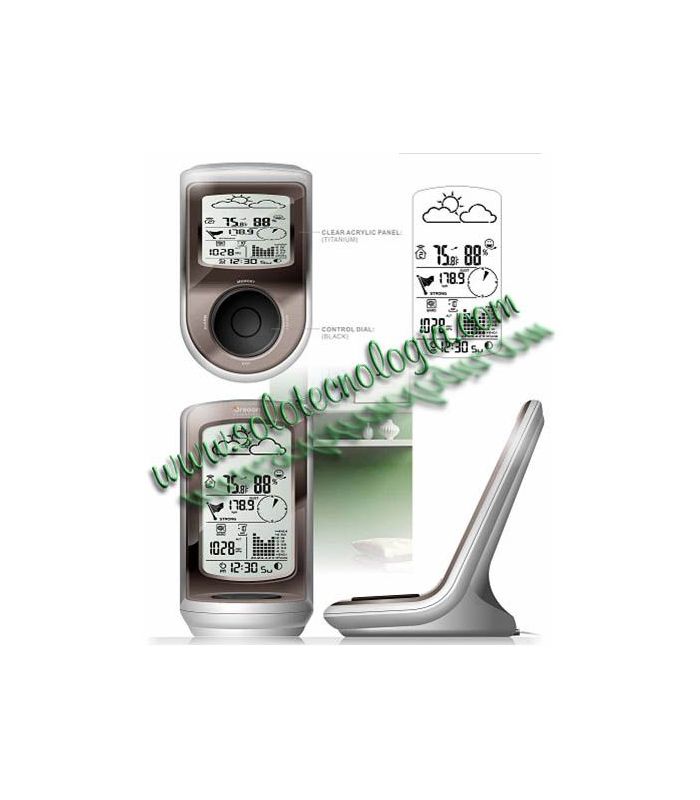  
Oregon Scientific WMR100 weather Station
Oregon Scientific
Professional Weather station WMR100N Oregon Scientific
Oregon Scientific
Weather station WMR100.
The Oregon Scientific WMR100N Professional Wireless weather station has a dial revolving for easy access to the weather information.
This fully-equipped station of six different monitors meteorological measurements and includes an atomic clock for the exact time.
The WMR100N sensor offers a variety of mounting options.
The wind speed and wind direction, and temperature sensors, and humidity sensor include a full set mounting kit that allows them to be mounted on the wall, or integrated included in the stand-alone pole of PVC.
You also have the option of mounting the temperature / humidity sensor independently, in a different location of the wind sensors.
The remote rain Gage includes a level indicator field for an easy installation.
WMR100N Features: * Animated weather forecast includes sunny, partly cloudy, cloudy, rainy and snowy icons * Supports indoor and up to 10 wireless outdoor temperature and humidity sensors (channel 1 is dedicated to outdoor, which include the temperature and humidity sensor; channels 2-10 available for expansion) * connects to a wind speed and direction sensor, a sensor of precipitation, a temperature and humidity sensor and one optional UV (not included) * Compatible with sensors 3.0 using protocol * Measures and displays temperature, heat index, humidity, dew point, wind speed, wind direction, wind chill, UV index (UV sensor not including optional), barometric pressure and daily / accumulated rainfall * Current and 24 hours a day historical readings stored in memory with time stamp * Time of alert for the alarm of high / lo temperature, heat index, humidity, dew point, a blast of wind and rain high speed, and UV index (with optional UV sensor not included) .
* Displays past 24 hours of barometric pressure, accumulated precipitation, and ultraviolet radiation (UV with optional sensor, not included) in bar graph format for easy analysis * radio-Controlled atomic clock, calendar and moon phase displays with backlight * Rotating the control dial is very easy to navigate * Includes PC software (compatible with Windows XP, 2000/Windows) to store and view weather data via USB connection * long range allows transmission of up to 100 meters (300 feet) between the main unit and remote sensors * full Set mounting kit for wind-and temperature sensor / humidity sensor allows wall mount installation or installation in a single package, PVC pole (3-pole piece, each piece approx. 24 "long) * base Station uses 4 AA batteries or AC adapter 6V for the continuity of operations (included) * Wind Sensor uses 2 AA alkaline batteries (included for FREE) * Rain Sensor uses 2 AA alkaline batteries (included for FREE) * Temperature / Humidity sensor uses 2 AAA alkaline batteries (included FREE) * 1-year manufacturer's warranty WMR100N Content of the box: * Main unit * Sensor Wind sensor remote Sensor * Rain sensor * remote Sensor Remote temperature and humidity sensor * AC Adapter * full Set mounting kit for wind-and temperature sensor / humidity sensor * Software CD * USB Cable * 8 x AA batteries (FREE) * 2 AAA batteries (FREE) * user Manual * Quick Start Guide
Oregon Scientific WMR100G
Data sheet
Color

Grey

Genre

Hombre,Mujer
Specific References
ean13

4891475147538